MLB Betting News
Padres Getting Overlooked in Favor of Dodgers Again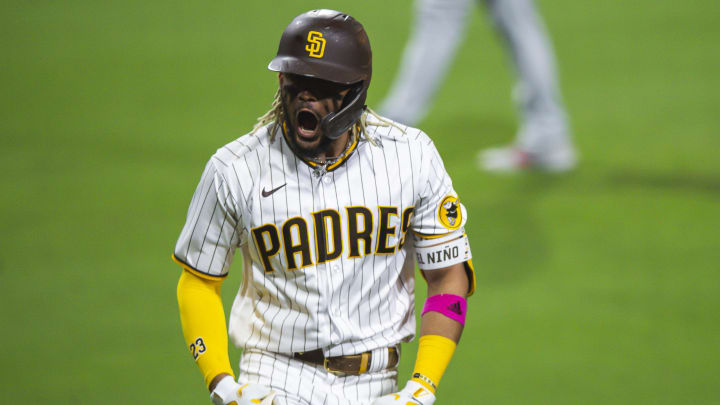 Fernando Tatis Jr. celebrating. / Matt Thomas/San Diego Padres/Getty Images
The San Diego Padres have lost four straight games. They still have the second best record in the NL, the third best run differential in all of baseball and the best team ERA. You tell me why they're still second-class citizens to the Los Angeles Dodgers.
The oddsmakers over at WynnBET are giving the Padres +155 odds to win the NL West while the Dodgers have -240 odds. That means the Dodgers have an implied probability of 70.6% to win the division while the Padres chances are measured at 39.2%. The Padres currently lead the Dodgers by a half game in the division standings and have a 4-3 record against L.A. this season and outscored them 32-29.
Sure, the Dodgers have won the last eight division titles, three of the last four NL Pennants and won the World Series in 2020. But if you're focused on that, you're living in the past. Here, in the year 2021, the Padres are better than the Dodgers in all the important pitching stats including the aforementioned team ERA, runs allowed per game, total strikeouts and total home runs allowed. The Dodgers also have one of the worst save percentages in the MLB and have blown the most saves total.
You have to say the Dodgers have the best offense in MLB. But we know in the postseason pitching wins down the stretch. Right now the edge goes to San Diego.
You can chirp at me about Trevor Bauer and Clayton Kershaw all you want. I'll turn around and ask you how you feel when Kenley Jansen walks out of the bullpen with a one-run lead in the ninth with Fernando Tatis Jr. walking up to the plate. There's no comeback. We already know how that went.
Are the Dodgers the most talented team on paper in the baseball? Sure. There's a reason they're the favorites to win the World Series again. But to give them a 70% chance to win the NL West and only a 40% chance to the Padres seems out of whack to me. Give me pitching in this dead-ball era.