NFL Player Props
NFL Draft Rumor: Mac Jones Stock Rising
Apr 14, 2021, 11:22 AM EDT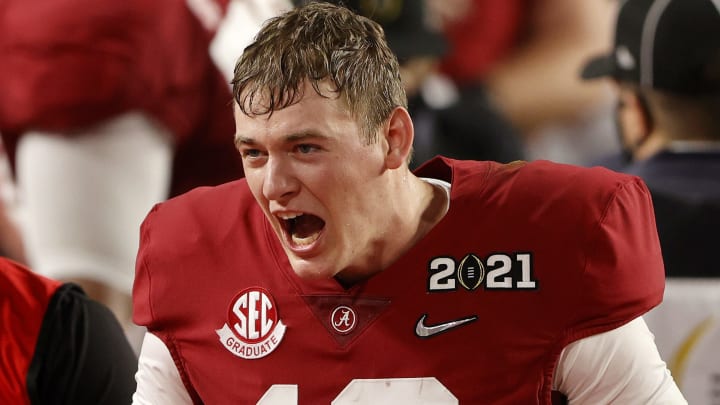 Alabama's Mac Jones is one of the most polarizing prospects in the 2021 NFL Draft. On one hand, he just had one of the most prolific collegiate seasons we've ever seen. He racked up 4,500 passing yards with 41 touchdowns to 4 interceptions while leading a 13-0 Crimson Tide team to the national championship.
On the other, the guy doesn't really look like a top-five quarterback. He doesn't have a huge arm, he's not big and he's not fast. And having a middle name like "McCorkle" doesn't exactly do him any favors.
But all it takes is for one team to fall in love with Jones –– and it's starting to look like the San Francisco 49ers are smitten.
Mac Jones NFL Draft Stock
The line for Jones' draft position has been set at over/under 3.5, according to odds provided by WynnBET. He's listed at -190 to be drafted under 3.5, and +125 to be taken at No. 4 or later. That all means the oddsmakers expect him to be taken within the first three picks of the NFL Draft.
With the Jacksonville Jaguars locked into Trevor Lawrence at No. 1, and the New York Jets almost certainly taking Zach Wilson at No. 2, this indicates Jones will be the 49ers' pick at No. 3. At least according to Vegas.
Jones may not have the raw talent that his peers in this class do, but he makes up for it elsewhere. He is an excellent decision maker who gets the ball out of his hands quickly and accurately. He's not the guy who makes the special throws, but he consistently makes the fundamental ones that allow those around him to be special.
He put that on full display at Alabama, maximizing star skill players like Devonta Smith, Jaylen Waddle and Najee Harris more than his predecessor Tua Tagovailoa ever did.
That has to be appealing to Kyle Shanahan. His offense is designed to quickly get the ball to elite skill-position players like George Kittle, Deebo Samuel and Brandon Aiyuk. All three dominate after the catch. Having a QB like Jones, who makes the right read quickly and accurately, could take this offense to new heights.
Shanahan made a similar quarterback in Matt Ryan an MVP back in 2016. It's starting to look like he thinks he can do the same with Jones.