NFL Betting News
Justin Fields Has Better MVP Odds Than Zach Wilson, Trey Lance and Mac Jones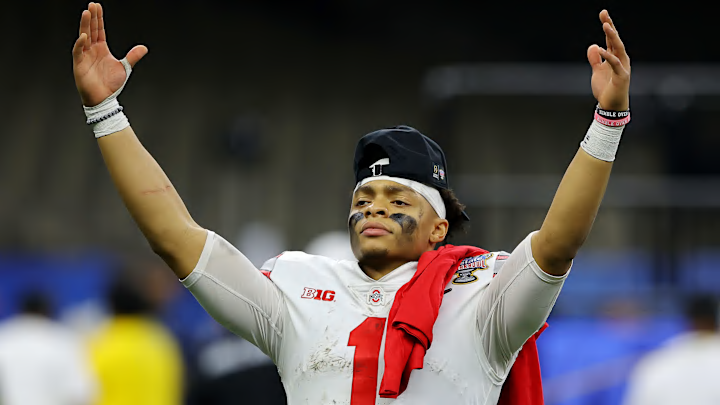 Chicago Bears fans are still celebrating like its 1986 following the momentous first-round draft trade orchestrated by their front office to nab Ohio State quarterback Justin Fields with the No. 11 pick.
Vegas indicates the party might just be getting started.
WynnBET has pegged Fields' odds to win the 2021 NFL MVP at +10000 (bet $100 to win $10,000). While that is behind No. 1 overall pick Trevor Lawrence, it's ahead of the other three quarterbacks drafted in the first round, Zach Wilson, Trey Lance and Mac Jones, who all have +12500 odds to win the award.
While these odds place Fields in the same place as Saints wide receiver Michael Thomas and Steelers defensive end TJ Watt to win the award, which is to say a long-shot, it is of note that he's ahead of two players drafted ahead of him (Wilson and Lance) and the guy who beat him in the college football National Championship game (Jones).
Lance is in a win-now situation in San Francisco with Jimmy Garoppolo also in town, Jones is under the tutelage of Bill Belichick with a plethora of offensive talent around him and Wilson is playing in the bright lights of Broadway. Yet Vegas still likes Fields to have the best season of the four.
A big reason why is Fields is expected to start Week 1. No offense to Andy Dalton, but he's no QB1. With a legit RB1 (David Montgomery) and WR1(Allen Robinson) also in Chicago, Fields could put up strong numbers as a rookie.
Wilson is also expected to start for the Jets Week 1. Unfortunately for him, he doesn't have the supporting cast of Fields.
Lance and Jones, meanwhile, will have to earn the starting job over established veterans in Garoppolo and Cam Newton, respectively. If either does, expect to see their MVP odds increase simply because they're in better positions to win, which is an important part of the MVP conversation each year.
As for Lawrence, he has the best MVP odds of the bunch at +7500. Barring injury, he'll start Week 1. If he could somehow turn the hapless Jaguars into winners immediately and put up decent numbers, his case to win MVP is the strongest of the bunch.
While the pre-draft debate centered around who the 49ers would pick No. 3 between Jones and Lance with Fields on the outside looking in, the post-draft debate will center around which of those three, plus the top two picks Lawrence and Wilson, will have the best career. Vegas has already given the early edge to Lawrence and Fields. We'll see if they live up to the hype.