Giannis Antetokounmpo vs Joel Embiid: Who Ya Got? UPDATE: Giannis Wins
Apr 22, 2021, 12:08 PM EDT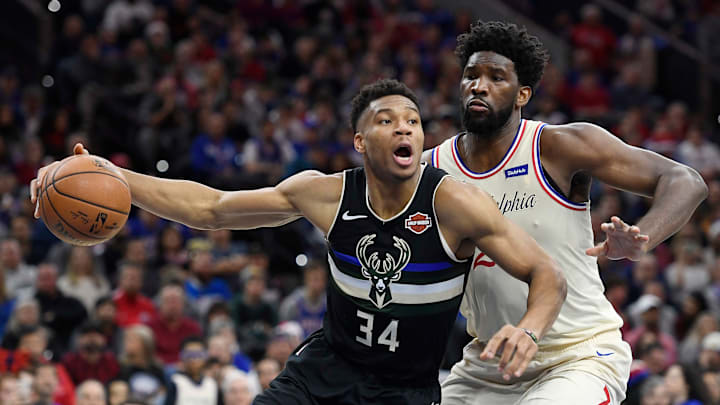 UPDATE: Giannis Antetokounmpo had 27 points, 16 rebounds and 6 assists and the Bucks won 124-117. Embiid had 24 points, 3 rebounds and 3 assists. As predicted, he was limited to only 27 minutes. Also as predicted, the Bucks were blowing out the 76ers heading into the fourth and took the foot off the peddle, resulting in Giannis not hitting the over in points. He did hit the over in rebounds and assists however, while Embiid didn't go over on any player prop.
I got no dog in this fight. All I got is a rooting interest to be entertained. How I could be disappointed is impossible to imagine. When Giannis Antetokounmpo and Joel Embiid take the court, you know fireworks are about to explode. So just grab me a lawn chair, a few beers and I'll gladly watch whose display is more dazzling while sweating out a few bucks I throw on the game.
Tonight the Bucks host the 76ers, with the Bucks heavy 8-point favorites, which means Vegas is giving them 50-50 odds to win by 8 or more points. Hyperbole in this situation dictates writers pen things like: This is a potential Eastern Conference Finals preview! or The Winner of This Game is The Biggest Threat to the Nets!
To hell with that. I just wanna see who wins between Giannis and Embiid. To get a sense, let's take a look at their projected stat lines.
Over at WynnBET, they have Embiid as a slight -112 favorite to score over 28.5 points, a slight -104 underdog to go over 11.5 rebounds and 50-50 to have over 3.5 assists.
Antetokounmpo, meanwhile, is a slight -108 underdog to go over 27.5 points, a -125 favorite to go over 10.5 rebounds and -104 to have over 5.5 assists.
Basically what Vegas is telling us with these player props is both of these guys should put up around 28 points, 11 boards and between 3-6 assists tonight. Stat stuffers to be sure, but who do we like better is the question?
I'm going with Giannis here boy and I'll tell you why. The 76ers just suffered a narrow loss to the Suns last night and had to immediately fly to Milwaukee from Philly after. That travel takes a toll on a regular human's body. Can you imagine what it feels like for a 7-footer who hurt his knee earlier this season?
Embiid has been playing at an insane level recently, averaging 38.8 points and 12.2 rebounds over his last six games. But the last time he played back-to-back games he was limited to only 27 minutes in the second game. While he did put up 27-9-4 in that game, it was against a Thunder team that was getting blown out and has been all season.
The Bucks, meanwhile, haven't played since Monday. Whenever an NBA team gets this much time to rest and prepare for one opponent, their gameplan is usually as tight as it can be. In a game as important as this one against the Eastern-Conference leading 76ers, I foresee a big performance from the Greek Freak.
Giannis' statline average in April is 30.8-9.0-3.5. The last time he played Philly he put up 32-15-5. Unless this is a blowout and he sits in the fourth quarter, you gotta like Giannis to fill the stat sheet.
Not saying Embiid can't. But with the playoffs approaching and the 76ers on the back end of a back-to-back where they had to fly over 800 miles, I could see Embiid being on a minutes restriction.
That would suck for the lawn chair people out there like me who just want to watch the show. But it could lead to a monster game for Giannis.