MLB Odds
Dodgers Biggest Issue Becoming Clear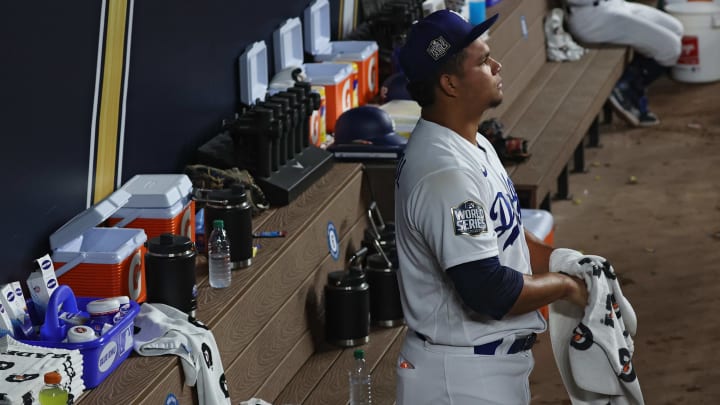 Brusdar Graterol's injury has hurt the Dodgers' bullpen depth. / Rob Carr/Getty Images
The sky isn't falling on the Los Angeles Dodgers just 32 games into the 2021 season, but they have had a major issue early on. 
Los Angeles, who is the World Series favorite on WynnBET at +300, has gone just 4-9 in one-run games this season and is 1-6 in extra innings.
The defending World Series champs are 17-15 on the season, but their bullpen has a shocking combined record of 2-9 this season. Of Los Angeles' five most used relievers this season (Kenley Jansen, Jimmy Nelson, Scott Alexander, Blake Treinen and Victor Gonzalez), only Nelson has an earned run average over 3.00, but it still hasn't translated into success in the win column. 
The loss of Brusdar Graterol to a forearm injury as well as the absence of David Price and Corey Knebel (who was recently moved to the 60-day injured list) has made the Dodgers' bullpen particularly thin. 
Dodgers manager Dave Roberts explained that his team is not doing the "little things" right now to win close games.
Both the San Diego Padres and San Francisco Giants look like the real deal this season, which means Los Angeles has to avoid losing too much ground early in the season to make life easier down the stretch. 
The Dodgers have one of, if not the best pitching staff in baseball, but a worn-out bullpen is a recipe for disaster in October. Right now, the Dodgers are tied with the Cincinnati Reds for the most extra-innings games played this season with seven. 
It's only May, and the baseball season is a long one with a lot of highs and lows. The Dodgers aren't in trouble, but they'll need to find ways to win close games, either by scoring more runs or holding late leads, if they want to find themselves competing for another World Series title this year.