NFL Betting News
David Montgomery Eyeing MVP-esque Season
Jun 8, 2021, 11:33 AM EDT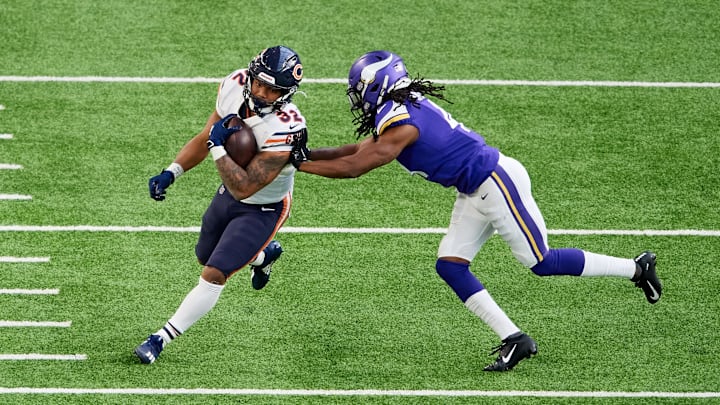 David Montgomery is looking to join the upper echelon of running backs. / Hannah Foslien/Getty Images
David Montgomery is a firm believer there is always room for improvement. The third-year back told USAToday.com his numbers from last season could've been better.
"It wasn't enough for me last year, just knowing the untapped potential that I had within myself," Montgomery said.
With those statements, you'd think Montgomery had an awful season in 2020. That was far from the case.
Montgomery had the 5th-most scrimmage yards in the league, tallying 1,508 yards. He was also fifth in the league in rushing yards (1,070) and fourth in receiving yards among running backs (438). To improve heavily on those numbers would result in an MVP-esque season. 
Despite having a lot of success last year, WynnBET doesn't see Montgomery as a serious contender for MVP in 2021. His odds are set at +50000, meaning a $100 bet would win $50,000 dollars, which could ultimately be the greatest value this season. 
Montgomery would have to surpass a myriad of running backs -- Derrick Henry, Alvin Kamara, Saquon Barkley to name a few --  currently favored higher than him, just to be in that position.
It's hard for a running back in the modern age to win the award, considering Derrick Henry ran for over 2,000 yards in 2020 and wasn't in the top three of MVP voting.
However, Montgomery and the Bears are trying to improve on an 8-8 season that ended with a loss to the New Orleans Saints in the Wild Card Round.
Chicago hopes it found its quarterback of the future in Justin Fields and that he can unlock another level in their offense. The Bears are favored to miss the playoffs (-240) in 2021, rather than make them (+175). If Montgomery does what he says he wants to do, the Bears could change that.